Clouded Titles Mayday Edition

Clouded Titles

 Mayday Edition is 432 pages of updated information about the aspects of foreclosure defense, strategic default, quiet title actions and county land record functions; streamlined Index and updated Table of Case Citations and comes highly regarded by attorneys.

Updating...

CLOUDED TITLES … IT IS AS OMINOUS AS IT SOUNDS!

"Over the course of 14+ years, Mortgage Electronic Registration Systems, Inc. (MERS) has thoroughly unleashed a confusing mess of concealed electronic data, supplied by virtually all of the major players in the American financial arena.

…coupled with an intricate network of document preparers, it has virtually caused clouds on over 70,000,000 titles to property in every state in the United States." read more
---

---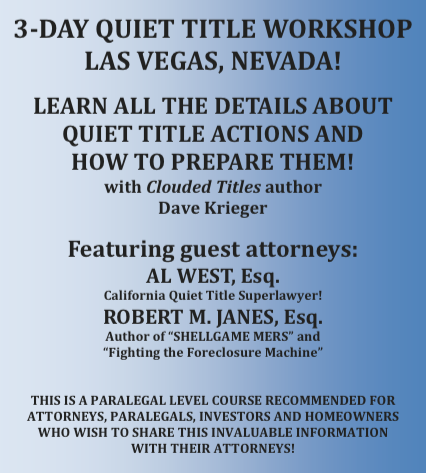 QUIET TITLE WORKSHOP LAS VEGAS NEVADA
This 3-day seminar, hosted by Clouded Titles author Dave Krieger s NON-CLE and is recommended for attorneys, COTA Preparers, paralegals, investors and homeowners who want to share this invaluable information with their attorneys!
Workshop Dates: Thursday April 16, 2015 through Saturday April 18, 2015 COTA
Workshop Hours: 8:00 a.m. to 6:00 p.m. (ALL 3 DAYS!)
Guest Lecturers: AL WEST and ROBERT M. JANES
Hampton Inn & Suites—Las Vegas Airport
6575 South Eastern Avenue, Las Vegas, NV 89119
Call (702) 647-8000 for special hotel room rates mention this workshop when booking your hotel room!
Early Bird Registration Deadline Ends April 1, 2015!
After 04/01/15, the fee is $1,095.00!


Here's what previous Quiet Title Workshop Attendees have to say about this workshop:
"Your class is great. It is very refreshing to be among you and Al and guests and students to share about the topics. I felt very alone in this until now."
A. S., Florida
"Thanks for a great workshop!"
J. D., Arkansas
"It's too bad my attorney couldn't make it. It's probably the one single best experience I've had in the discussion of quiet title in 20 years. I've probably saved myself of two to three years of bad experiences. i even got to meet the 'pizza delivery guy'."
A. G., Texas