CLOUDED TITLES … it is as ominous as it sounds!
"Over the course of 14+ years, Mortgage Electronic Registration Systems, Inc. (MERS) has thoroughly unleashed a confusing mess of concealed electronic data, supplied by virtually all of the major players in the American financial arena.
…coupled with an intricate network of document preparers, it has virtually caused clouds on over 70,000,000 titles to property in every state in the United States." Learn more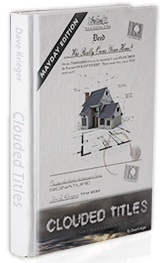 Clouded Titles Mayday Edition
Clouded Titles Mayday Edition is 432 pages of updated information about the aspects of foreclosure defense, strategic default, quiet title actions and county land record functions; streamlined Index and updated Table of Case Citations and comes highly regarded by attorneys.