CLOUDED TITLES … it is as ominous as it sounds!
"Over the course of 14+ years, Mortgage Electronic Registration Systems, Inc. (MERS) has thoroughly unleashed a confusing mess of concealed electronic data, supplied by virtually all of the major players in the American financial arena.
…coupled with an intricate network of document preparers, it has virtually caused clouds on over 70,000,000 titles to property in every state in the United States." Learn more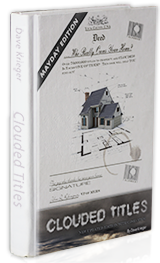 Clouded Titles Mayday Edition
Clouded Titles Mayday Edition is 432 pages of updated information about the aspects of foreclosure defense, strategic default, quiet title actions and county land record functions; streamlined Index and updated Table of Case Citations and comes highly regarded by attorneys.
Latest News From the Blog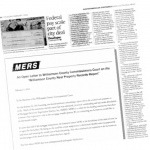 (SAN ANTONIO) – I did some checking around the country to find out whether the hierarchy with Mortgage Electronic Registration Systems, Inc. ("MERS") ever filed such a rebuttal piece to a county land record audit. I could find none. So I consulted with several people familiar with the audit to ask them why MERS CEO Bill Beckmann would cause such a piece to be published in a major metropolitan newspaper and they all pointed to the fact that the audit was conducted by […]
Posted: Feb 08, 2013 5:11 PM CST Updated: Feb 08, 2013 6:17 PM CST
By Dave Elias, NBC2 Investigator
LEHIGH ACRES, FL – A Pennsylvania couple recently purchased their retirement dream home in Lehigh Acres by using an online auction company. Ralph and Linda Donley paid $65,000 cash for the home only to discover an eviction notice on their front door months later.
"They say we own the house free and clear.  I said we can't. We're getting evicted.  How can it be ours?" said […]
(GEORGETOWN, TEXAS; January 29, 2013) — Williamson County Clerk Nancy Rister held a press conference following the presentation of the results of the audit of the official property records she commissioned last October.  Joining her was Austin attorney David Rogers, an attorney who specializes in foreclosure-related matters and Dave Krieger, paralegal and author of the book Clouded Titles, whose firm, DK Consultants LLC conducted the audit of the Williamson County land records.
Out of all the documents reviewed, 1,576 files were pulled and examined, along with all of the files of the personal residences of every […]
By Dave Krieger
(GEORGETOWN, TEXAS) — The Williamson County Commissioners Court was presented with the final results of the real property records audit conducted in early October by DK Consultants LLC out of San Antonio.  The Commissioners were shocked at the findings, which you can access by clicking here for the full report.
County Judge Sam Gattis instructed County Clerk Nancy E. Rister, who commissioned the study, to contact the newly-elected county attorney and investigate the matter further for future action by the County.  The Board also heard from local Austin attorney David Rogers, who explained […]
"The information on the flash drive was in of itself worth the price of admission!"
Thank you so much for all the time and effort you have put in to educate us on the COTA preparation.The insight and critical analysis that you have shared in the different angles on how we look at the information provided us has been a very valuable tool for me and I am sure for most of us in the class.My hope is that through the work you do and through us, we both grow the number of COTA preparers that could potentially help a lot of people in dealing with this mortgage crisis that our nation is faced with.I appreciate the unselfish sharing of your work and information.
"Anyone remotely considering a Quiet Title or Wrongful Foreclosure Action, challenging your Lender, Bank, Financial Institution or any of the unscrupulous Foreclosing Entities (Including MERS) would be kidding themselves if they thought or believed that they could be successful or get across the finish line without one of Dave Krieger's COTAs. It would be equally wise and extremely advisable before you embark on such an endeavor or mission to read "Clouded Titles", as I have 3 times!"
I have utilized Dave Krieger's chain of title assessments in multiple litigation cases here in Michigan. Mr. Krieger is at the cutting edge in the field of title analysis and has shown a keen ability to make sense of even the most confusing and esoteric recorded information. Clients who wish to challenge foreclosure in a court of law or otherwise battle the mortgage industry are well advised to consider an expert review of the history of their property. I fully endorse Dave Krieger for the job. His reports leave no stone unturned he consistently follows up to answer questions or share his vast knowledge of the industry.
"Great workshop! Dave is an excellent teacher and having attorneys there helped gel the overwhelming information."
"The PowerPoint made is possible to listen to Dave. The addition of the attorneys made it even more powerful."