Clouded Titles Mayday Edition

Clouded Titles Mayday Edition is 432 pages of updated information about the aspects of foreclosure defense, strategic default, quiet title actions and county land record functions; streamlined Index and updated Table of Case Citations and comes highly regarded by attorneys.

Updating...

CLOUDED TITLES … IT IS AS OMINOUS AS IT SOUNDS!

"Over the course of 14+ years, Mortgage Electronic Registration Systems, Inc. (MERS) has thoroughly unleashed a confusing mess of concealed electronic data, supplied by virtually all of the major players in the American financial arena.

…coupled with an intricate network of document preparers, it has virtually caused clouds on over 70,000,000 titles to property in every state in the United States." read more
---

---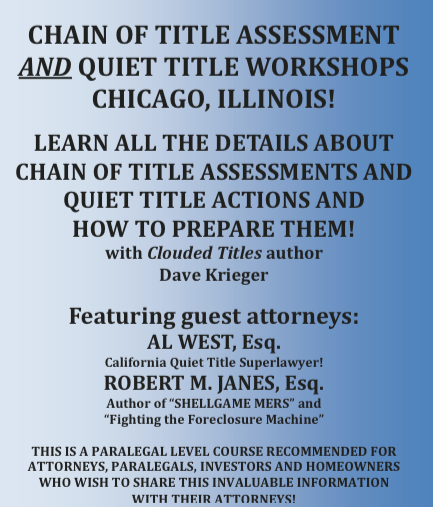 CHAIN OF TITLE ASSESSMENT AND QUIET TITLE WORKSHOPS CHICAGO
Two separate, back-to-back workshops consisting of three days each of intensive hands-on training with paralegal and Clouded Titles Author, Dave Krieger, along with guest attorneys! This education is deemed life-changing! Both workshops are non-CLE and are open to homeowners, investors, real estate professionals and attorneys!
COTA Workshop: June 4-6, 2015
Quiet Title Workshop: June 7-9, 2015
8:00 a.m. – 6:00 p.m. (all 6 days)
Reading the book Clouded Titles before attending is a huge plus! Register now so you can receive your copy of Clouded Titles to read before the seminar!
A laptop is recommended for this course because you will be doing research on COTAs and quiet title cases and pleadings! On-site power and Wi-Fi supplied!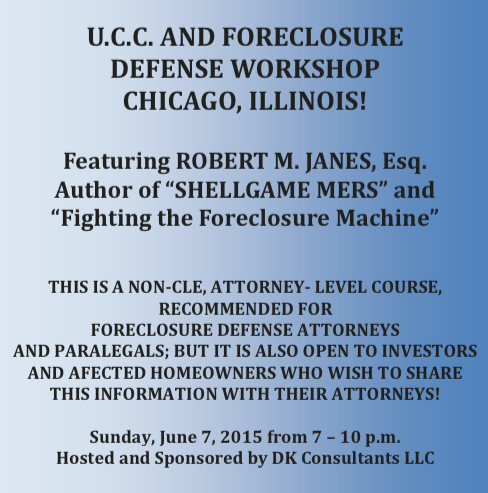 COTA-QT WORKSHOP FEATURED SPECIAL SEMINAR
"UCC & FORECLOSURE DEFENSE", featuring noted author and attorney Robert M. Janes, author of Fighting The Foreclosure Machine and ShellGame-MERS: Contrived Confusion. 
Mr. Janes was a transactional and courtroom attorney in federal and state courts for about 20 years.  In his retirement, he is a legal writer and consultant to attorneys engaged in foreclosure and quiet title litigation in many states.  Janes is considered the "guru of UCC". 
The Uniform Commercial Code (the "UCC") is statutory law in every state (and that includes yours). It is the law of negotiable instruments which is now commonly established as the law that defines the rights of the parties to a typical residential loan Note which is secured by a deed of trust or mortgage. The UCC provides protections for borrowers facing payment demands under threat of foreclosure. It can be important in contested quiet title suits involving a borrower's home. Application of the UCC can help demonstrate the meritless use of the name of "MERS" in foreclosure and quiet title litigation.
The UCC is well established law that can help balance the scale of justice for the "little guy.
The UCC can be an effective offensive and defensive tool whether you are in a mortgage or deed of trust state. Through this workshop you will be provided an in-depth overview of the UCC sections and discussion about how they are used in foreclosure and quiet title lawsuits for the benefit of the homeowner. The UCC is highly technical so Bob will strive to use plain English supported by extensive legal authority and examples. A question and answer segment will help demonstrate real life applications of this negotiable instrument law.
This class is intended for attorneys, paralegals, investors and homeowners alike. If you do not have years to spend studying this complex law, this is your opportunity to meet Bob and take advantage of his streamlined work.
Attend this seminar during the Chain of Title Assessment-Quiet Title Workshop on Sunday, June 7, 2015 from 7 - 10 p.m. for only $395.00.
Here's what previous Quiet Title Workshop Attendees have to say about this workshop:
"The information on the flash drive was in of itself worth the price of admission!"
-C. H., Realtor-Investor, San Antonio, TX
Thank you so much for all the time and effort you have put in to educate us on the COTA preparation.The insight and critical analysis that you have shared in the different angles on how we look at the information provided us has been a very valuable tool for me and I am sure for most of us in the class.My hope is that through the work you do and through us, we both grow the number of COTA preparers that could potentially help a lot of people in dealing with this mortgage crisis that our nation is faced with.I appreciate the unselfish sharing of your work and information.
C.S.-California
"Anyone remotely considering a Quiet Title or Wrongful Foreclosure Action, challenging your Lender, Bank, Financial Institution or any of the unscrupulous Foreclosing Entities (Including MERS) would be kidding themselves if they thought or believed that they could be successful or get across the finish line without one of Dave Krieger's COTAs. It would be equally wise and extremely advisable before you embark on such an endeavor or mission to read "Clouded Titles", as I have 3 times!"
Al West, Esq. Redondo Beach, CA
I have utilized Dave Krieger's chain of title assessments in multiple litigation cases here in Michigan. Mr. Krieger is at the cutting edge in the field of title analysis and has shown a keen ability to make sense of even the most confusing and esoteric recorded information. Clients who wish to challenge foreclosure in a court of law or otherwise battle the mortgage industry are well advised to consider an expert review of the history of their property. I fully endorse Dave Krieger for the job. His reports leave no stone unturned he consistently follows up to answer questions or share his vast knowledge of the industry.
Adam Alexander, Alexander Law Offices, Southfield, MI
www.myfaircreditsite.com
"Great workshop! Dave is an excellent teacher and having attorneys there helped gel the overwhelming information."
S.H., Maryland
"The PowerPoint made is possible to listen to Dave. The addition of the attorneys made it even more powerful."
M.N., Indiana
"Great exchange of information!"
M.G., Illinois
"I would consider the knowledge I obtained in the class priceless! Relaxed atmosphere and comaraderie amongst the attendees!"
D.D., Florida
"Your class is great. It is very refreshing to be among you and Al and guests and students to share about the topics. I felt very alone in this until now."
A. S., Florida
"Thanks for a great workshop!"
J. D., Arkansas
"It's too bad my attorney couldn't make it. It's probably the one single best experience I've had in the discussion of quiet title in 20 years. I've probably saved myself of two to three years of bad experiences. i even got to meet the 'pizza delivery guy'."
A. G., Texas